Shipping activities have the potential to release undesirable chemicals into the environment. Chronic exposure to these chemicals may result in deleterious effects occurring on the surrounding ecosystems. Passive sampling using the DGT technique allows time averaged concentrations to be determined providing perhaps a more representative data of the condition's organism are exposed to.
THOE samplerswere used to investigate the fluctuations in dissolved metals a port. Each DGT device was exposed for a three-day period. During each DGT exposure period one grab sample was collected.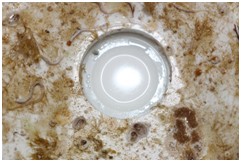 Despite the development of heavy biofouling on the shell of the THOË sampler during the month-long deployment period, the DGT exposure window remained free from any biological fouling. After retrieval of the sampler dissolved metal concentrations were determined by eluting the DGT devices and analyzed using an ICP-MS. Continuous monitoring of dissolved copper concentrations using the THOË sampler show oncentrations remained relatively constantduring the first 18 days followed by increased concentrations over the next 9 days and finally dropping back down during the last 3 days. Comparatively, results obtained by grab samples were more variable, thus demonstrating the differentwhen collecting few grab samples when interpreting data.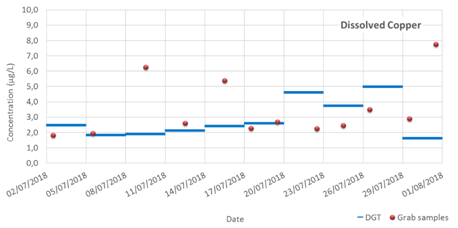 Dissolved copper
concentrations obtained using
a THOË sampler and by
classical grab sample collection