Automatic sampler using passive DGT® devices for water analysis: field applications
THOË® is a versatile sampler that can operate in both marine and freshwater environments for a wide range of monitoring/studies applications. Indeed, the use of the DGT® technology combined with sequential automatic sampling makes it possible to acquire time series of mean concentrations over several months.
Application areas:
Baseline surveys, impact studies, risk assessment of aquatic environments;
Regulatory monitoring, including the marine environment, ports, estuaries, rivers and lakes or reservoirs;
Scientific programs in the field of the transfer of chemicals in waters…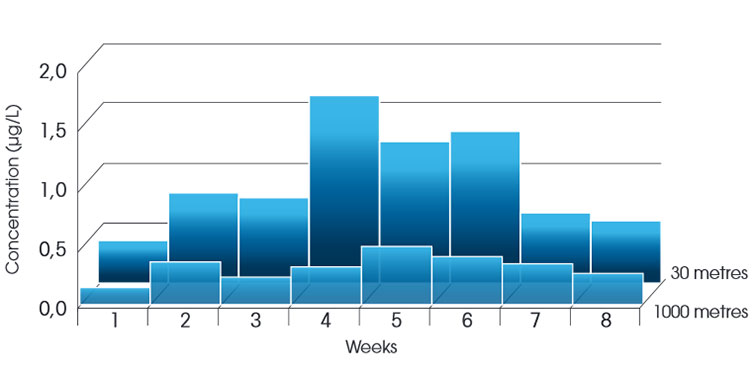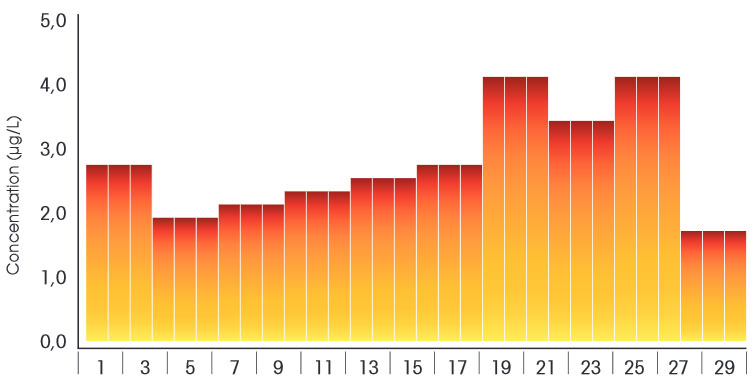 Dissolved Copper concentrations from a marina (above):
Each DGT® was exposed during three days over a one month deployment period. Concentration variations observed over time result of the influence tidal cycles.
Dissolved nickel concentrations determined for two monitoring sites at increasing distances from a marine outfall of mining effluents (left):
Each DGT® was exposed for a week during a two month deployment period. The temporal variations reflect the pollutant load changes at 30 and 1000 m distance.